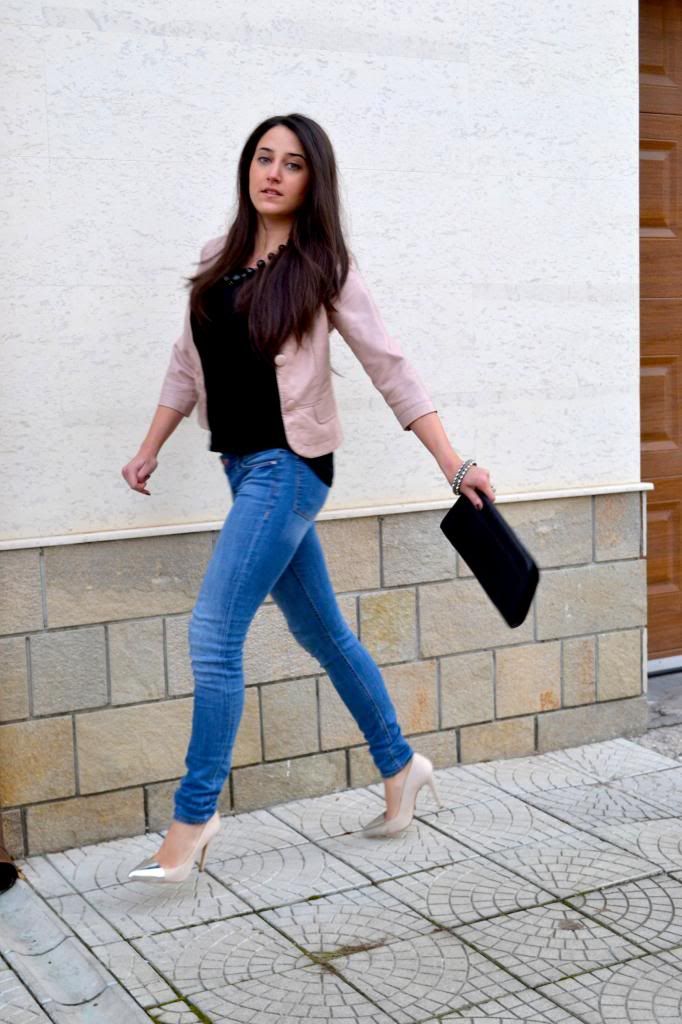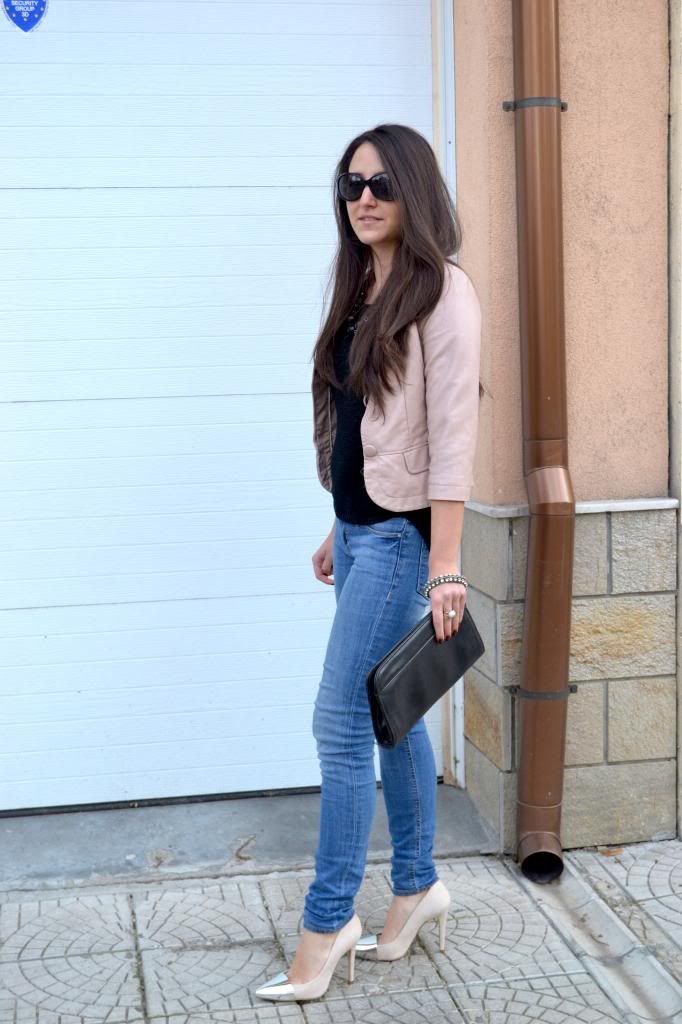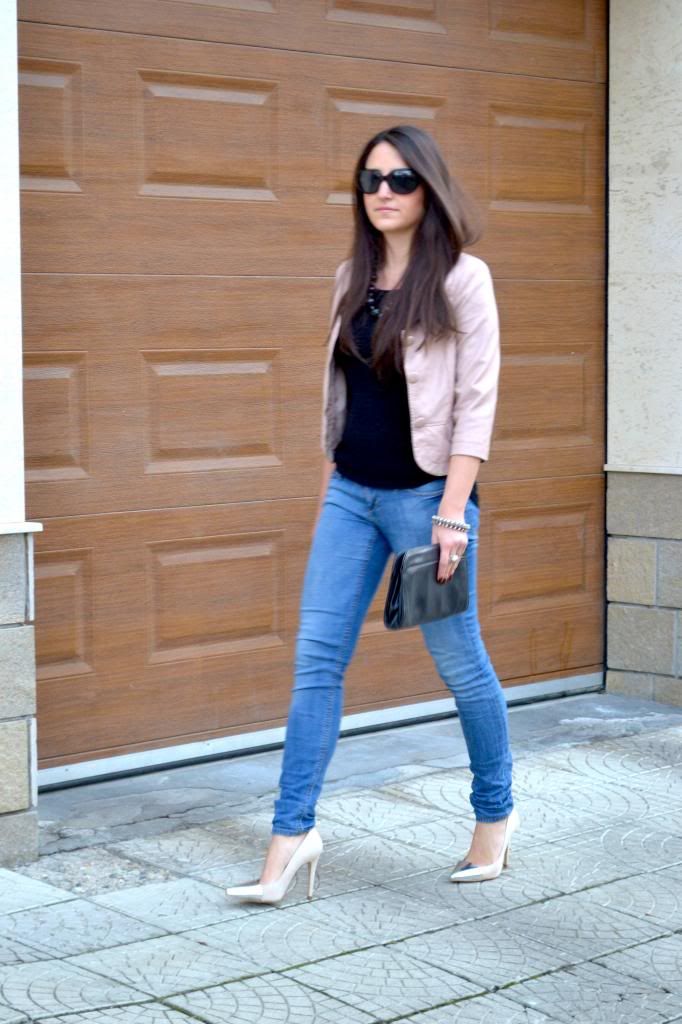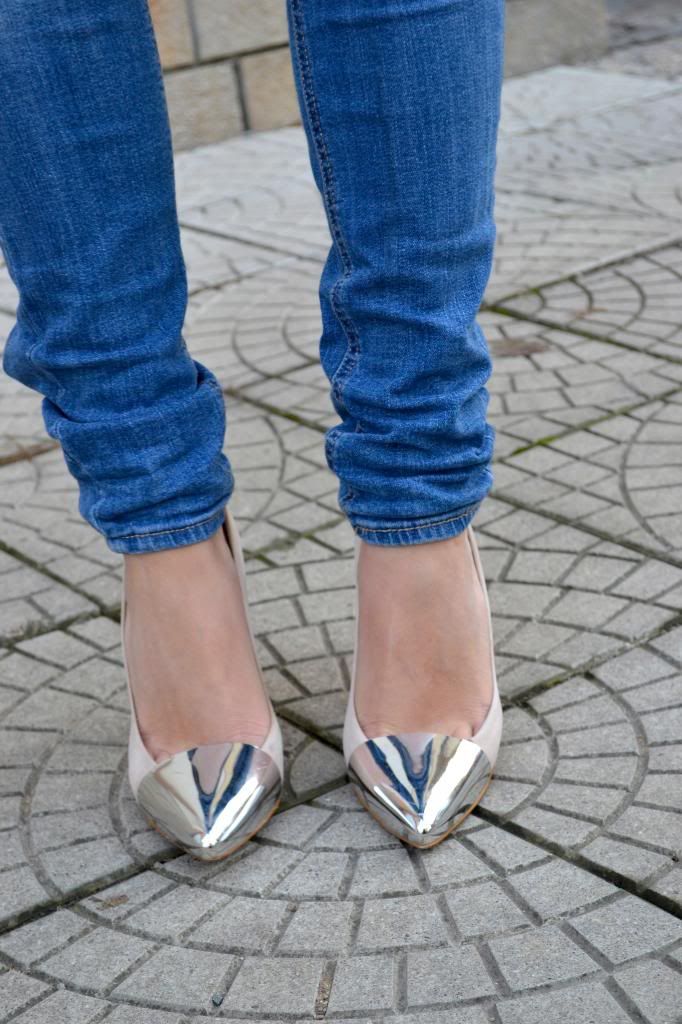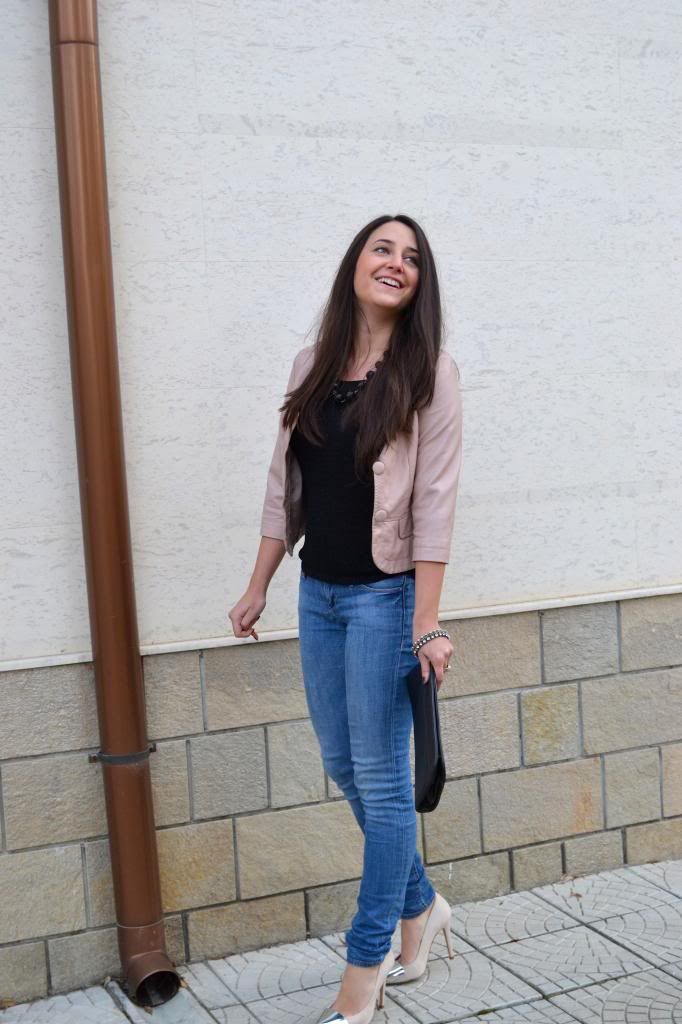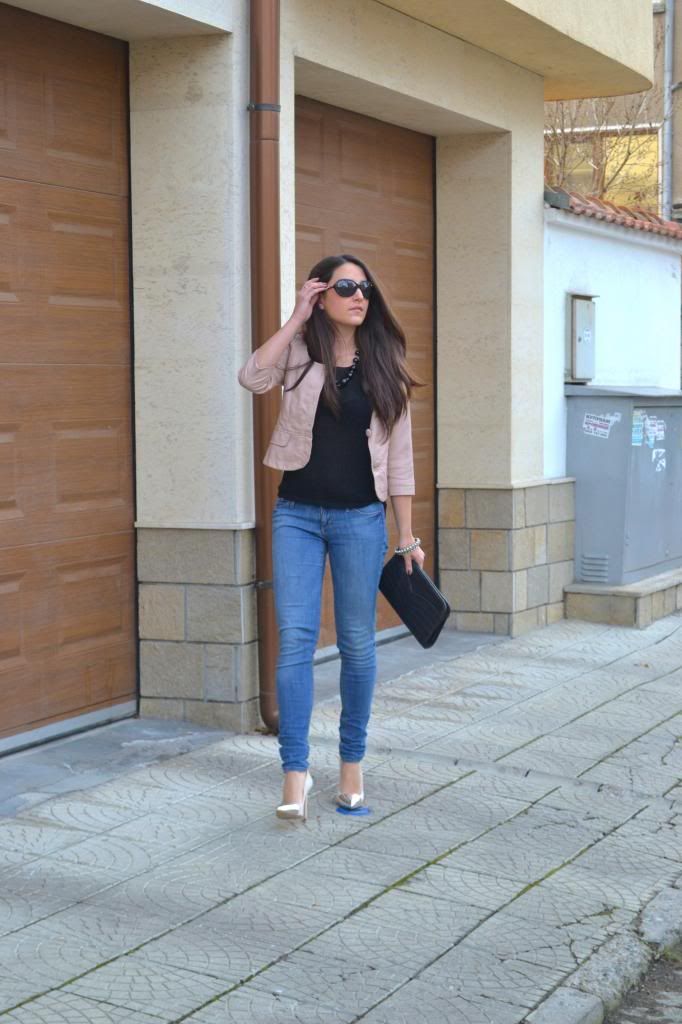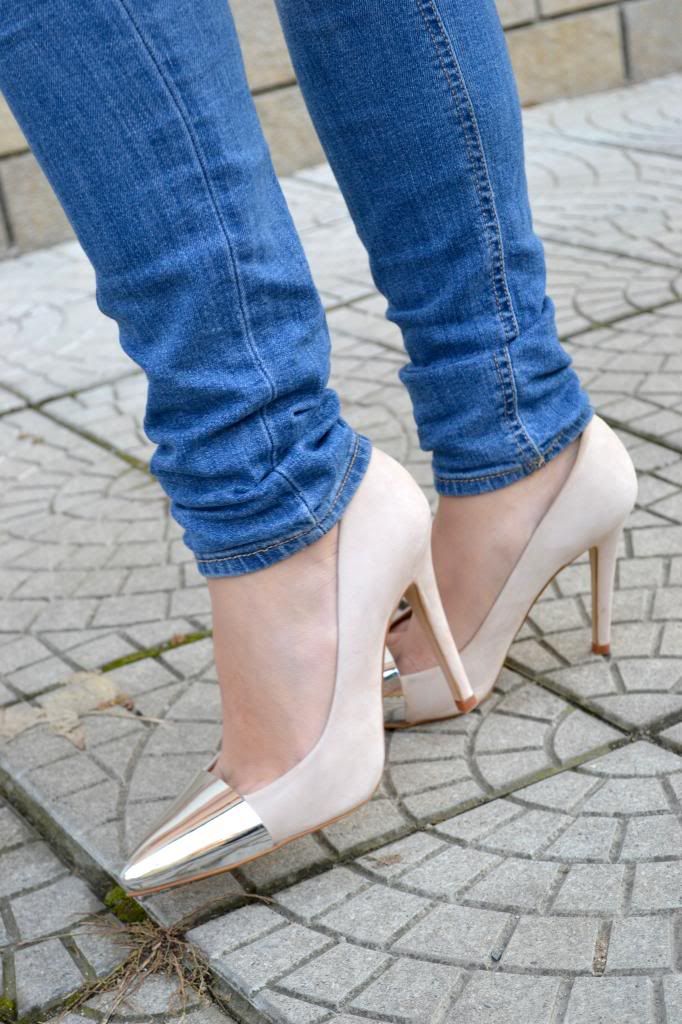 In this post I'm going to tell you about my love affair with.. these shoes!
It was October. As usual I went shopping in one of my favorite malls, and again as usual I didn't know what I was looking for. I had seen before a few magazines, fashion blogs and so on showing the new trends including sharp shoes and there were many designers turning this fashion back around. I love sharp shoes, I always did, I find them very feminine, beautiful and sexy. I especially adore the new model of sharp shoes with metal toe cap. I entered my beloved Zara shop and they were there- perfect soft pink color, metal toe cap, like a dream! I tried them on and I've decided to think about it before I buy them, I wasn't that sure, because the fact is that sharp shoes are not the most comfortable :D and back then I was on that mood to be practical when I go shopping (stupid, I know). I've been thinking a few days, maybe even weeks (I probably had some work to do and didn't have time to imagine only shoes :D) and finally I've decided- I will go buy them! But when I went to Zara, they weren't there.. the beautiful boots have replaced them.. It was sad, because I've already imagined hundred outfits with them!
And now, a few weeks ago when I went shopping in Zara again and I couldn't believe my eyes- my beautiful shoes were there! They weren't finished, they were just put away for spring. And now they were even on sale! Yes, but the happy end doesn't come here! I normally wear 38, but maybe because the shoes are sharp 39 fitted me better. And there was 39, but the right shoe's metal toe cap was scratched! I asked the shopping assistant if there's another 39 in this shop or any other Zara shop in Sofia, she checked the computer and said no. I gave up and thought that maybe my destiny is not to have those shoes. Then, while I was waiting on the queue to pay I saw something shiny from one of the corners of the shop. I've decided to see if these were my shoes and they're 39, while leaving the queue I was thinking that I'm stupid for loosing the line and if the woman said there's no other 39, this should be true. But something dragged me to go there and see myself, and guess what- my shoes, my number! Hah, I grabbed them and went happy back on the queue!
I know that this is just a story about shoes, but there's a lesson too! In conclusion, never give up if you want something and always check yourself, because other people may be wrong ;)
В този пост ще ви разкажа за любовната ми афера... с тези обувки!
Беше октомври. Както винаги кръстосвах магазините в любимия ми мол и отново както винаги не знаех какво търся. Бях виждала преди това в няколко модни списания и блогове, новите тенденции и често се споменаваха остри обувки, изглежда дизайнерите решиха да върнат тази мода. Обичам остри обувки, винаги съм ги харесвала, смятам че са много женствени, красиви и секси. И по-специално много харесах новата тенденция на острите обувки с метален връх. Влезнах в любимия ми магазин Zara и те бяха там- перфектен светлорозов цвят, метален връх, като мечта! Пробвах ги, но реших да си помисля няколко дни преди да ги купя, защото факт е, че острите обувки не са най-удобните :D , а и тогава бях на някаква вълна да пазарувам по-практично (глупаво знам). Мислех си няколко дни, може и седмици (вероятно съм имала някаква работа и не ми е оставало време да мисля само за обувки :D), но накрая реших- ще ги купя! Обаче, когато отидох в магазина на Zara те вече не бяха там.. красивите ботуши ги бяха изместили... Беше тъжно, защото вече си бях представила поне сто аутфита с тях!
И сега, преди няколко седмици отново бях на шопинг в Zara и не можах да повярвам на очите си- моите хубави обувчици бяха там! Не са били свършили, а просто са ги складирали за пролетта. И сега дори бяха с намалена цена! Да, но щастливия край не идва тук! Обикновено нося 38-ми номер, но може би, защото обувките са остри 39 ми стоеше по-добре. И имаше 39, но дясната обувка беше издрана доста на металния връх. Попитах продавач-консултантката дали има друг чифт 39 в този магазин или, който и да е магазин на Zara в София, тя провери в компютъра и ми каза не! Предадох се и реших, че явно не ми е писано да нямам тези обувки. Тогава, докато чаках на опашката за касата нещо ми проблясна от един друг ъгъл на магазина. Реших да проверя дали това са моите обувки и дали са 39, докато се предвижвах към тях си мислех, че съм глупава да си изпускам реда, и че щом момичето ми е казало, че няма друго 39, значи трябва да е така. Но, нещо сякаш ме дърпаше натам, трябваше да проверя сама и познайте какво- моите обивки, моя номер! Хах, грабнах ги и се върнах доволна на опашката!
Знам, че това е просто история за обувки, но и тук има поука! В заключение ще кажа, никога не се отказвайте, когато искате нещо и винаги проверявайте сам, защото другите хора може да грешат ;)
shoes- Zara; top- Zara; jeans- Bershka; jacket- Stradivarius; bag- vintage; necklace- Taily Weijl (old)